Our Helium-Free Reusable Balloon Cluster Kits Are Hassle Free!
Balloons are the perfect decoration for all of your car dealership's outdoor summer sales events and promotions! Get the maximum impact with our Helium-Free Reusable Balloon Cluster Kits. They even come in red, white, and blue for the Fourth of July!
Our balloon kits were designed for use on grassy areas. Steel spikes ensure the poles holding up the balloon kits won't fall over. Our kits are reusable and are the perfect accessory to dress up your outdoor events with. They're hassle free and assembled easily.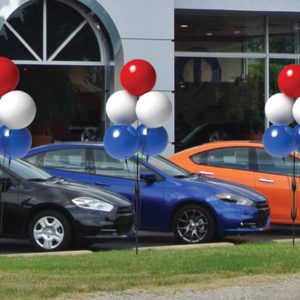 The days of spending countless hours taping down balloons to add a little more life to your outdoor presentation are over. With our balloon kits, you can achieve that put together look without spending the extra time. Order yours online today!
Are you looking for a way to add extra decoration to your car dealership or retail store? Call us at (877) 424-4433 for special orders or questions