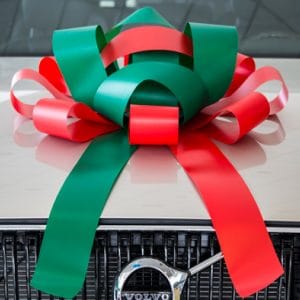 The perfect decoration for a brand-new car!
This holiday season, if you plan on gifting your loved one something as extravagant and expensive as a car, we have the perfect decoration. Our Giant Car Bows will add the perfect finishing touch.
Giant Car Bows are perfect for decorating gifts that cannot be traditionally wrapped such as bicycles, ATVs, motorcycles, boats, and more.
If you have a custom order, we can accommodate you! You have the option to customize your bows. Choose from different color combinations and material including velvet, plastic, and vinyl. If you bought your loved one a bright red new car, choose a bright red bow to match! Our Giant Car Bows are compatible with all car models.
The Giant Car Bows are easily assembled with a scratch resistant magnetic base that can be attached almost anywhere! Our Giant Car Bows aren't just for the outdoors, they are designed for both indoor and outdoor usage. Our specially designed magnets keep the bows from blowing away in the wind, and the scratch-resistant bows will not scratch or damage your windshield or cause chips in your car's paint.
Hurry and order your Giant Car Bows now before they sell out! Our Giant Car Bows are a hot commodity this holiday season.
Order our Giant Car Bows online today for the bargain price of $36 per bow*
Are you looking for a way to add something extra to your car dealership or retail store? Call us at (877) 424-4433 for special orders or orders over 20 sets of two (40 bows).
Product Information:
Dimensions: 30″ wide with two 30″ long x 4 1/2″ wide tails
Designed to be used either indoors or outdoors
Non-scratch soft magnetic base
$36 per bow
Minimum order of 2 bows*