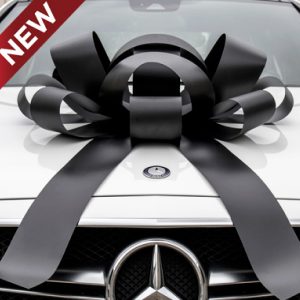 Black Friday Decorations on Sale NOW!
Black Friday is the BIGGEST sales event of the entire year. Your car dealership or retail store should start preparing now for the spike in customers and drop in prices on your inventory. Our Black Friday themed promotional decorations are perfect for getting the job done and advertising all of your deals.  Our high-quality and bold graphics will make a high impact, guaranteed.
We even have Black Friday themed Giant Car Bows to place around your store or on top of your showroom vehicles. Nothing draws in attention and crowds like a giant car bow.
Another great option for your car dealership is our Black Friday Blowout Flag Hoodies! Add instant impact to your featured vehicles in seconds. The fitted stretch polyester fabric wraps around the hood of the vehicle with ease.  Simply open the vehicle's hood to apply; the elastic edge will secure the Hoodie and once the vehicle hood is closed it will stay in place! Our Flag Hoodies are great for test drives and crafted out of soft polyester material guaranteed not to scratch the paint of the vehicle.
Don't wait, order now and start preparing your dealership for the crowds that will be sure to flock to your store this Black Friday Weekend!
Product Information: Flag Hoodies
Fits most Cars and Trucks!
Large Size 5′ 3″ wide by 4′ tall.
Full-color digital printing.
No Additional Charges if you provide Camera Ready artwork to size.
Additional set up charge of $45; includes a single proof of the art.
Are you looking for a way to add extra decoration to your car dealership or retail store? Call us at (877) 424-4433 for special orders or questions