Drive Sales Forward While Making Your Business Look Incredible!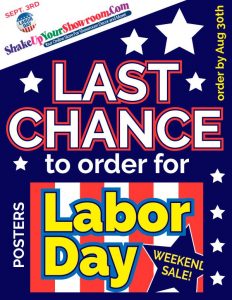 Order our Labor Day Weekend Promotional Package to spice up your dealership and make a high-impact that will help you stand out from competitors. Our Labor Day Promotional Package includes one 3 x 12-foot vinyl banner, two 24 x 36-inch posters, and a set of 50 hang tags! This gives you a variety of decorations display around your store and inside of your showroom vehicles.
Hurry, because time is running out! Don't miss out on this great opportunity to make your car dealer showroom look festive, polished, and put together for your Labor Day Weekend Sales! Our products can help your dealership keep customers coming into your store. Details matter!
Order by 8/30 so your Labor Day Weekend decorations arrive just in time to decorate.
Are you looking for a way to add something extra to your car dealership or retail store? Call us at (877) 424-4433 for special orders or questions.