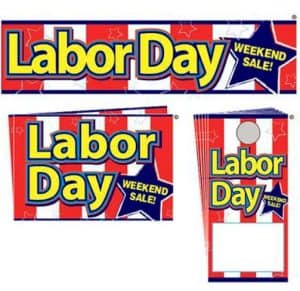 Labor Day Weekend is the Perfect Time to Hold a Sales Promotion!
Order our Labor Day Weekend Promotional Package or our Labor Day Weekend Sale banners and hang tags now to advertise for your Labor Day sales events! The Labor Day Weekend Promotional Package features a red, white, blue, and yellow color theme in order to stay festive for the occasion. It includes posters, banners, and hang tags to provide your store with different decoration options to display.
Our high-impact and bold graphics will be sure to impress your customers and turn heads towards your car dealership or retail store. Start decorating your business just in time for the holiday weekend! Your customers will appreciate the time spent making your business look as presentable and festive as possible. Small details matter and do not go unappreciated or unnoticed!
Hurry, order our Labor Day decorations now before time runs out!
Are you looking for a way to add something extra to your car dealership or retail store? Call us at (877) 424-4433 for special orders or questions