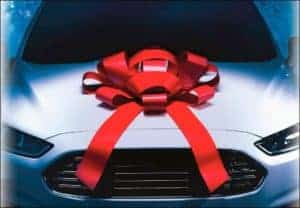 Perfect for The Holiday Season
When you care enough about your loved one to buy them an expensive, extravagant gift, you need packaging that is equally as impressive and showy. Our plush red velvet car bows will add the perfect finishing touch to your holiday gifts or display. Velvet bows are perfect for embellishing gifts that cannot be traditionally wrapped including cars, bicycles, motorcycles, and more.
What looks more festive than a plush red velvet bow? Order your bows now and start preparing for the holiday season. Our Velvet Bows can be placed on any surface of your choice. The bows look stunning displayed as holiday décor in shopping malls, retail stores, car dealerships, restaurants, parks, and even inside of homes!
Our car bows are crafted from a soft and luxurious velvet material that looks incredible wherever you place them. You can make anything stand out with a pop of shocking red. Each Car Bow is about 30" wide with two 30" x 4.5" long wide tails. The bows include a scratch resistant magnetic base that will not scratch or chip the paint on the surface you place them on.
The velvet bows are priced affordably at only $49 per bow! They are compatible with all makes and models of vehicles. Decorate the front line and improve your bottom line with our plush red velvet car bows.
Order your own set of holiday-themed red velvet car bows online now and get prepared for the holiday season.
Call us at (877) 424-4433 for special orders or orders over 20 sets of two (40 bows). 
Product Information:
Dimensions: 30″ wide with two 30″ long x 4 1/2″ wide tails
Non-scratch soft magnetic base
Minimum order of 2 bows*
We only ship to the Continental United States