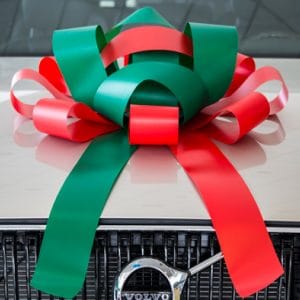 Perfect to Display Throughout the Holiday Season
Deck the halls! Get in the holiday spirit with our festive themed Giant Car Bows. Our bows can help you draw in more customers and drive your holiday sales forward. You can display our car bows throughout the holiday season.  Our car bows are priced affordably to make sure you get your money's worth!
The Giant Car Bows come in red, green, silver, or custom colors. The choice is yours! We know that your customers will love them. You can also choose from a variety of finishes including a water-resistant vinyl and plush velvet.
Our car bows are guaranteed to make a high impact and draw in more customers to your retail store. Your customers will appreciate the extra time spent decorating your store for the holidays. Small details matter! And who doesn't enjoy beautiful themed decorations? Holiday-themed bows will keep your business looking festive for all of your customers.
At Shake Up Your Showroom, it's the most wonderful time of the year! Order our car bows online today.
Are you looking for a way to add extra decoration to your car dealership or retail store? Call us at (877) 424-4433 for special orders or questions.
Product Information
Dimensions: 30″ wide with two 30″ long x 4 1/2″ wide tails
Variety of color combos and finishes available
Non-scratch soft magnetic base
Minimum order of 2 bows*
Call for custom orders