Fourth of July is Coming!
What better way to celebrate than by decorating your car dealership or retail store with our Fourth of July Event Package! Our event package comes with a large vinyl banner, hang tags, and posters made with bold colors and high-quality graphics.
Make your establishment stand out against dozens of local businesses. Show off your patriotic side and order yours before the holiday comes and goes! Your customers will appreciate the extra time you spent decorating and making your dealership look polished and put together.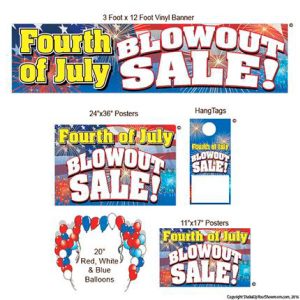 Show your appreciation for our country and start shopping now. Fourth of July is coming soon! ORDER TODAY
Are you looking for a way to add extra decoration to your car dealership or retail store? Call us at (877) 424-4433 for special orders or questions