Don't Miss Out!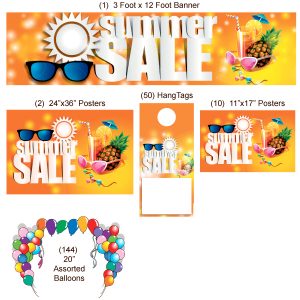 Are you looking for a way to beat the heat and increase your car sales this summer? Our themed event packages create the perfect opportunity to advertise for any and all summer savings events at your dealership. If you want to make a high impact with your decorations, you need to check out our brand-new Summer Sale Event Promotional Package!
The Summer Sale Event Promotional Package includes brightly colored balloons, posters, hang tags, and banners which contain tropical themed graphics. Our graphics will be sure to steal the show, turn heads, and attract customers to your dealership. The vibrant orange and yellow color theme on our event package ensures that your establishment stands out and are perfect for keeping your dealership looking festive.
Hurry, and order yours online now before the summer season comes and goes. Don't forget your sunglasses!
Are you looking for a way to add extra decoration to your car dealership or retail store? Call us at (877) 424-4433 for special orders or questions